Speaker Series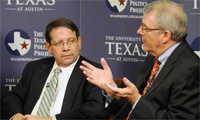 Harvey Kronberg and Ross Ramsey.
March 6: Election De-Brief with Fikac, Jeffers, Kronberg & Ramsey
On March 6, 2014, at 3:30 PM, the Texas Politics Project will live-stream a conversation about the 2014 primaries and the fall election with Peggy Fikac (
The San Antonio Express-News
), Gromer Jeffers, Jr., (
The Dallas Morning News
), Harvey Kronberg (
The Quorum Report
), and Ross Ramsey (
The Texas Tribune
).
More information about the event.
Polling and News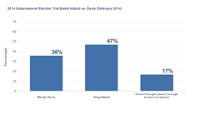 Feb. 2014 UT/TT Poll result of Abbott-Davis Trial Ballot.
February 2014 UT/TT Poll: Abbott Leads Davis, Run-Offs Loom in GOP Primaries
The February 2014 UT/Texas Tribune Poll found Greg Abbott leading Wendy Davis in the Governor's race, and looming run-offs in the main GOP primary races. See our poll partners
The Texas Tribune
for new results this week. We will publish results and graphics later this week in our
polling section
c.