Speaker Series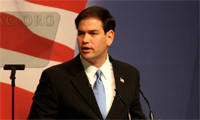 Florida Senator Marco Rubio (Photo: Gage Skidmore)
Marco Rubio to speak at UT-Austin on April 15
On Tuesday, April 15, 2014, at 4:00 PM, the Texas Politics Project joins the Clements Center for History, Strategy, and Statecraft in sponsoring a speech by Senator Marco Rubio at the Blanton Museum of Art.
Click here for more information & videos
.
Polling and News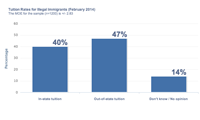 Feb. 2014 UT/TT Poll result on in-state tuition for illegal immigrants.
February 2014 UT/TT Poll
The February 2014 UT/Texas Tribune Poll examined the 2014 primary elections along with a number of policy issues, including education, immigration, attitudes towards marijuana, Obamacare, and Texas' voter ID law. See our poll partners
The Texas Tribune
for additional analysis and examine our published results and graphics in our
polling section
.