Announcements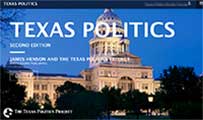 Watch a Recorded Webinar Exploring New Edition of Texas Politics
Join James Henson and our collaborators at Soomo Publishing
this for a YouTube video of our May 7 webinar discussion the new features and options that will be added to the Texas Politics web text in the Fall of 2014. The webinar provides a guided preview of the exciting new features coming in August. See the Texas Politics webinar here.
The UT/Texas Tribune Poll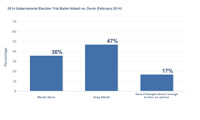 Greg Abbott leads Wendy Davis by 12 points in the latest poll.
June 2014 UT/TT Poll
The June 2014 UT/Texas Tribune Poll examined the 2014 elections along with a number of policy issues, including education, immigration, abortion, Obamacare, and the death penalty. See our poll partners
The Texas Tribune
for additional analysis and examine our published results and graphics in our
polling section
.