Speaker Series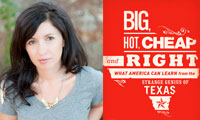 Erica Grieder, author of Big, Hot, Cheap, and Right: What American Can Learn from the Strange Genius of Texas.
Video From Spring 2012 Posted to Speaker Series Archive
Video of appearances by Senator Kel Seliger, State Representatives Dan Branch, Eric Johnson, and Lance Gooden, and author Erica Grieder are available in the Texas Politics Speaker Series video archive.
More info & video archive>
Polling and News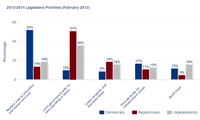 2013-2014 Legislative Priorities (February 2013)
February 2013 Poll Surveys Texans on Politics & Policy
The February 2013 University of Texas/Texas Tribune Poll asked a wide range of questions about major policy issues facing the 83rd Texas Legislature and the country, including the immigration, education, guns, and more. See our
polling section
for graphics and discussion of the results.